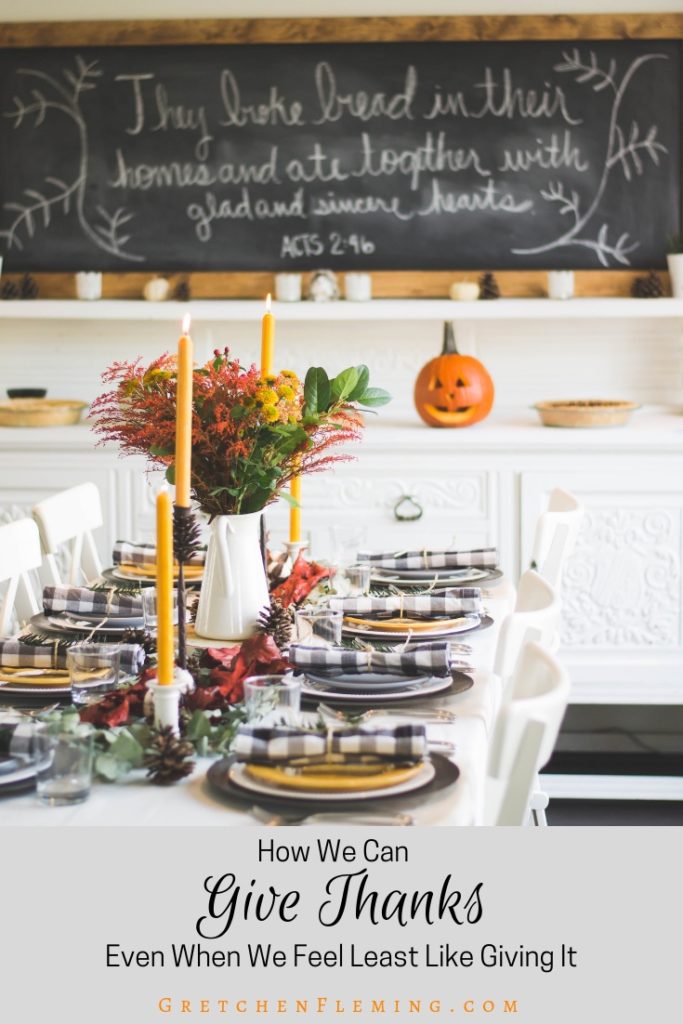 It is a common misconception that I believed for too long: thanksgiving is determined by circumstances. If my circumstances were favorable, then I was thankful. If they were not, then I wasn't feeling necessarily blessed.
Over time, while reading my Bible along with some shocking words from my former pastor, I learned otherwise.
The first time I noticed the correct perspective of thanksgiving was when I was reading about Jesus feeding the five thousand in Mark 6:41.
Taking the five loaves and the two fish and looking up to heaven, he gave thanks and broke the loaves. Then he gave them to his disciples to distribute to the people. He also divided the two fish among them all.
Never before had I paid attention to the fact that He took what was available for feeding the crowd, which was clearly not enough by any stretch of the imagination, and He looked up to heaven and "gave thanks". Jesus gave thanks before the miracle! He gave thanks for what was not enough! 
Thanksgiving was not based upon having "enough" in life. It had less to do with the need and more to do with the assurance afforded in a relationship with a faithful, gracious Father. This was definitely a shift in perspective for me to meditate upon.
Not long afterward, I remember sitting in church one day when as a family, we were in the fight of our lives as we weathered TWO raging storms. I was already very weak and weary with life as we knew it. To make matters worse, there were no signs on the horizon that either of the storms showing any signs of ceasing or even calming.
I felt hopeless, barely able to keep my head above water. I was on the verge of tears much of the time. I remember feeling as though my personality began to change. I used to be an optimistic person, but I was beginning to give way to despair and general negativity.
Then the words of my pastor rang in my ears like a loud bell clamoring for my attention. I don't even remember the passage of Scripture that day or the title of the sermon. I didn't need to really. The statement was enough.
The excellencies of Christ are higher and greater than our circumstances. 
I jolted to attention! It was as if a beam of light had honed my focus through the darkness I felt engulfing us. Suddenly, I had clarity.
Yes! That is Truth!! The excellencies of Christ are not changed one bit by our unfavorable circumstances. He is not affected by our reality but to the contrary, our reality is affected by His greatness!
There it was! My guiding light through the storm!! That was what I needed to navigate my way through treacherous waters, beating winds, and relentless waves. It was hope in the darkness of our circumstances.
Send forth your light and your truth, let them guide me; let them bring me to your holy mountain, to the place where you dwell. Then I will go to the alter of God, my joy and my delight. I will praise you……Psalm 43:3-4
And praise Him I did!!  I learned the invaluable principle that thanksgiving is based upon the greatness and glory of our eternal God and is always relevant, regardless of temporal circumstances.
This truth shines forth in the life of Daniel, as I read of his dire circumstances from being forbidden to pray to anyone but the current king of Babylon, King Darius. Because of jealousy and intrigue, a trap was set for Daniel so that he would fall out of favor with the king who esteemed him. Enemies conspired to have him killed so they could advance in his place.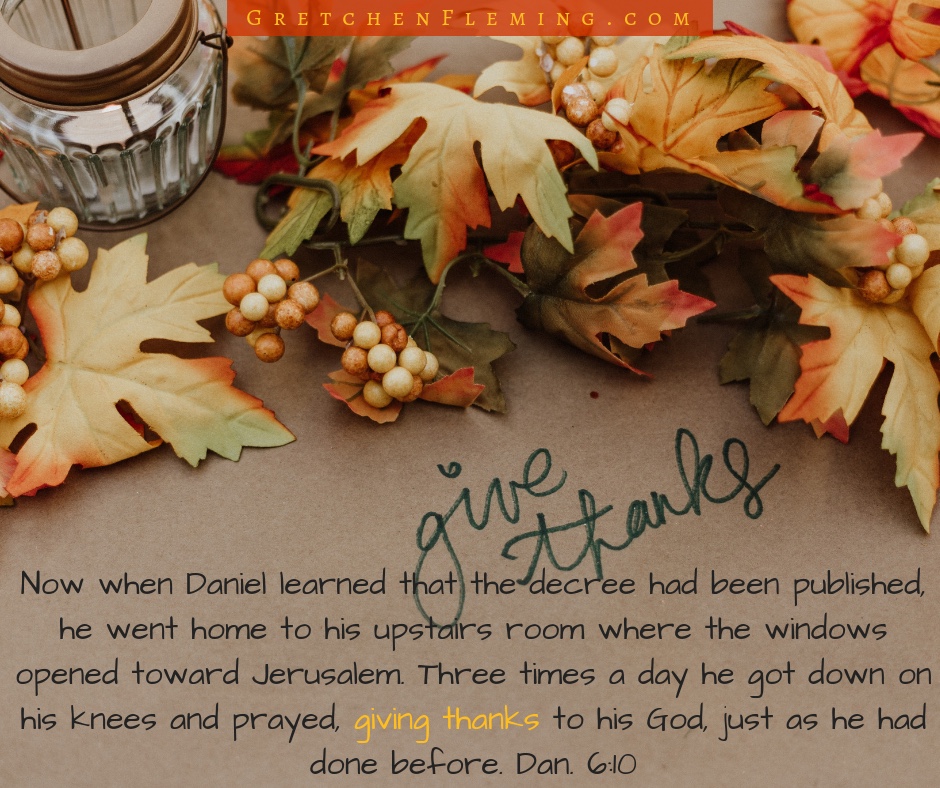 Daniel is heroic though in how he responds to his life-threatening situation. Daniel 6:10 reads,
Now when Daniel learned that the decree had been published, he went home to his upstairs room where the windows opened toward Jerusalem. Three times a day he got down on his knees and prayed, giving thanks to his God just as he had done before. 
What courage! What faithfulness! Daniel not only prayed contrary to the edict but he also gave thanks at the threat of death!
Why??? Because Daniel knew that the excellencies of his God and the true King of Kings, were not affected by his circumstances! They were eternal and irrevocable, far outweighing mere mortal decrees.
Oh friend, what power we have at our disposal! We have the privilege to pierce the darkness of any and all circumstances with the radiant light of thanksgiving, considering the worthiness of our Lord above and beyond whatever threatens our well-being emotionally, physically, mentally or spiritually. This act of giving thanks brings glory to Him but it also guides us through what seeks to defeat us.
We are more than our circumstances, more than what seeks to define us. We are worshippers of God Most High!
Happy Thanksgiving friends! I am so grateful for YOU!
Gretchen